Detail of a painting by David Bloom
An annual event where we, the People, come together to celebrate and practice World Harmony and Peace.
Our 29th Anniversary Celebration!
2020 Virtual Snow Goose
Sunday, November 22th, 2020
3:30pm – 5:00pm
Virtual event on Facebook Live
Hosted online by the Villaseñor family and friends
We're taking our National Celebration of Thanksgiving where Native Americans and Europeans ate in Harmony and Peace together and going Global in the Spirit of LOVE, Celebrating our Differences, and Creating

5,000 Years of Unity on Earth!
This is a:
Spiritual Event!
Family Event!
Community Event!
School Event!
Church Event!
Noted author Victor Villaseñor had a vision from his grandmother come to him one night in a dream. In that dream, his grandmother instructed him to promote a vision for world peace by gathering people together like snow geese who have flocked together in unison and harmony for over 20 million years.
In 1992 Villaseñor manifested his vision for world peace by creating Snow Goose Global Thanksgiving Celebration of Peace and Harmony.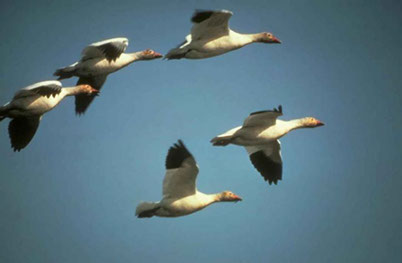 A life-changing dream…
Annually the Sunday before Thanksgiving, it is a day for people to put aside their political, racial, and socio-economic differences and to come together with a sense of community. The first Global Thanksgiving was celebrated in Spain with only 70 people in attendance.
The second was celebrated at Plymouth Rock. Since then the Snow Goose Global Thanksgiving Celebration of Peace and Harmony has been celebrated at the Rancho Villaseñor in Oceanside, California and several other cities across the United States.
…now a global movement.
The Snow Goose Global Thanksgiving Celebration of Peace and Harmony is open to all. Participants are asked to bring a food dish to share with others.
The Snow Goose Celebration of Peace and Harmony serves as a kickoff to the holiday season, and as a reminder that their family and local communities are but a microcosm of the global community. We are responsible for the tenor we bring to one another and the world.
A quick Introduction:
Victor Villaseñor
A gifted and accomplished speaker, Victor Villaseñor, in his candid and heartfelt manner, brings a fresh perspective to a number of universal themes, including pride in cultural heritage, the strength of family, dedication to education and personal achievement, the power of the written word, world harmony and peace. Visit Victor's website.
Start your own Snow Goose Celebration!
We realize that not everyone around the globe can join us at the rancho.
We encourage you, your family and friends to reach out to your own local communities and organize your own Snow Goose Celebration!
Remember, our focus is to bring people together to promote peace, love and harmony. It only takes one person to get the word out, start now!